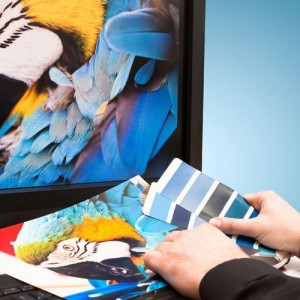 Here at Labels Plus, we take great care to ensure you receive the best quality product. To facilitate this, we ask that you consider the following when supplying artwork (graphic/logos) for your project.
We prefer vectors (AI, EPS or PDF)
There are two main ways computers display an image... bitmaps and vectors. Photos are bitmaps (made up of dots), but most corporate logos are designed and saved as vector files (so they can be resized without losing any detail).
To enable us to edit your graphic for any potential layout, maximise quality and allow colour matching, please supply vector format graphics including your cutline. Vectors are usually preserved within AI, EPS, CDR or PDF file formats. Your designer will be able to supply a vector format logo if you are unsure.
Note: JPG, BMP, PNG and GIF are all forms of bitmap and not vector. In many cases we can use a bitmap, however please be aware that there may be limitations and additional charges. If supplying a bitmap, ensure that it is around 300 dpi or greater, otherwise you may see 'pixelation'. (Try zooming into your graphic and see if it deteriorates badly).
Print Colour Assurance
We print with a CMYK ink system, so please generate or convert your artwork to CMYK. If required we are able to closely match to specific colours within the Pantone Colour Library, however relevant PMS codes must be placed within the file or specified via email/phone. We will match that PMS on solid, flat areas of colour on logos etc as closely as we can, however some limitations apply to blended areas (please ask if unsure).
Engraving Colour Assurance
Due to the nature of the engraving process, we generally only engrave black and white files, however some exceptions can be made to simulate greys and halftones depending on the target material (please enquire). The finished colour of the engraving will depend on the material being engraved and the engraving process employed.
Fonts
Outline all fonts (except where edits are required) and embed where possible. We have a large font library, however if you require a commercial font, please supply us with the appropriate font file.
Bleed and Margin (where appropriate & possible)
Due to variations in manufacturing techniques and products, we prefer the standard bleed and margin of at least 3mm. Bleed is the area outside of a cutline, margin is the area just inside the cutline. Avoid placing any important information in the margin.
We want you to be thrilled with the finished article when you get your new labels and while we don't offer an in-house design service, we are able to offer plenty of advice on how to achieve a fabulous result.
Artwork Specifications
We are pleased to offer a "no setup cost" service for artwork that meets the following common specifications. Please note however that any artwork that does not meet these specifications and requires amendment will incur additional charges at the rate of $15 + GST per 15 minutes. Here's what we need...
Full Colour Labels
Full colour photo quality finish labels on either paper or vinyl (learn more):
All fonts converted to outline paths (filled shapes)
All text at least 3mm from edge
All images embedded (not linked)
A bleed of at least 3mm
An outline of the cutting line for any non standard shapes
Minimum resolution 300 dpi
Budget Labels
Simple, stencil-like images with up to 3 spot colours on paper in standard shapes and sizes (learn more).
Designs that include both an image and text should be submitted as two files; one with text and one without.
Include the names of all fonts used
Include the TrueType (or OpenType) font file for any non standard Windows font
Minimum font size 5pt
All print at least 3mm from edge
All images embedded (not linked)
Minimum image resolution 300 dpi
Note that if your design or colour requirements fall outside the capabilities of our thermal transfer printer, full colour labels may be recommended as an alternative. In any event, images sometimes need modification to make suitable for printing by thermal transfer, so setup costs for some budget labels may be unavoidable.
Accepted File Types
PDF
AI
EPS
PSD, JPG, TIFF, Freehand and several others. Our preferred file type is PDF.
Recommended
We will convert any RGB images sent to us to CMYK colour, but we recommend that you convert prior to submitting your artwork. You can learn more about converting RGB to CMYK on our FAQ page.
Proofs
Upon receipt of your artwork, we'll produce a proof of the finished product and request your approval prior to production. You can opt to receive your proof either as a PDF or as an actual sample. We offer one sample proof for most printed label options. Some options, or additional samples, will incur an additional cost. Please ask our friendly staff what category your sample falls under.
Printed proofs are recommended where colour matching is critical. Colour shades differ slightly from printer to printer depending on the way the file is created, printer settings and the printing process. This is especially important if you have not supplied your artwork in CMYK colour as shifts will often occur when RGB (computer colour) is converted to CMYK (printing ink colour), or you have chosen to print budget labels which use a limited range of colours.
Common Problems
The most common problems we encounter with client artwork are low resolution jpeg and gif files and files submitted without text converted into outline paths. 
If you have any doubts or questions about the requirements detailed above, give us a call or use our
contact form and we'll get it sorted.