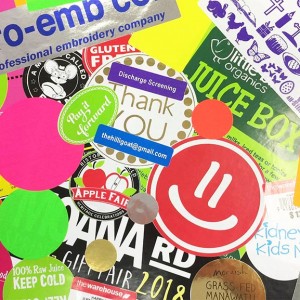 Samples of our Budget & Blank Labels
Budget labels are printed using what is known as thermal transfer technology. The advantage of this well proven method is economy, however there is a trade-off in quality of finish and flexibility:
Budget labels have a maximum of four printed colours.
An exact colour match (with your artwork) will not always be possible.
Budget labels are only available on paper and cannot be laminated.
Budget labels are only available in standard shapes and sizes. The shapes we offer are square, rectangle, round and oval. We stock a range of sizes in both white and fluro colours in each of those shapes. Other colours and sizes are available on request, please contact us with your request. 
For information on setting up your file refer to our Artwork & Design page

For more information on our materials please refer to our Materials page
Common options
Regardless of whether you choose full colour labels or the budget option, some specifications are common to both:
Quantity; the total number of labels you need.
Number of different designs. You can have multiple designs, as long as each one requires at least 100 labels.
Is variable data required eg: sequential numbering or barcodes?
Type of proof; PDF sent by email, a printed label sent by regular mail or none at all.
You can choose a printed proof to ensure that the finished product is exactly what you envisaged.
Blank Labels
We have a vast range of blank labels to suit many situations and applications. We have an extensive range of cutting dies that we can use to produce your required blanks and are capable of producing small or large runs. Blanks can be made using both paper and vinyl substrates. Our paper labels are available in a range of colours, shapes and sizes. The shapes we offer are square, rectangle, round and oval.
For more information on the pre die-cut blanks we have please refer to our Materials page